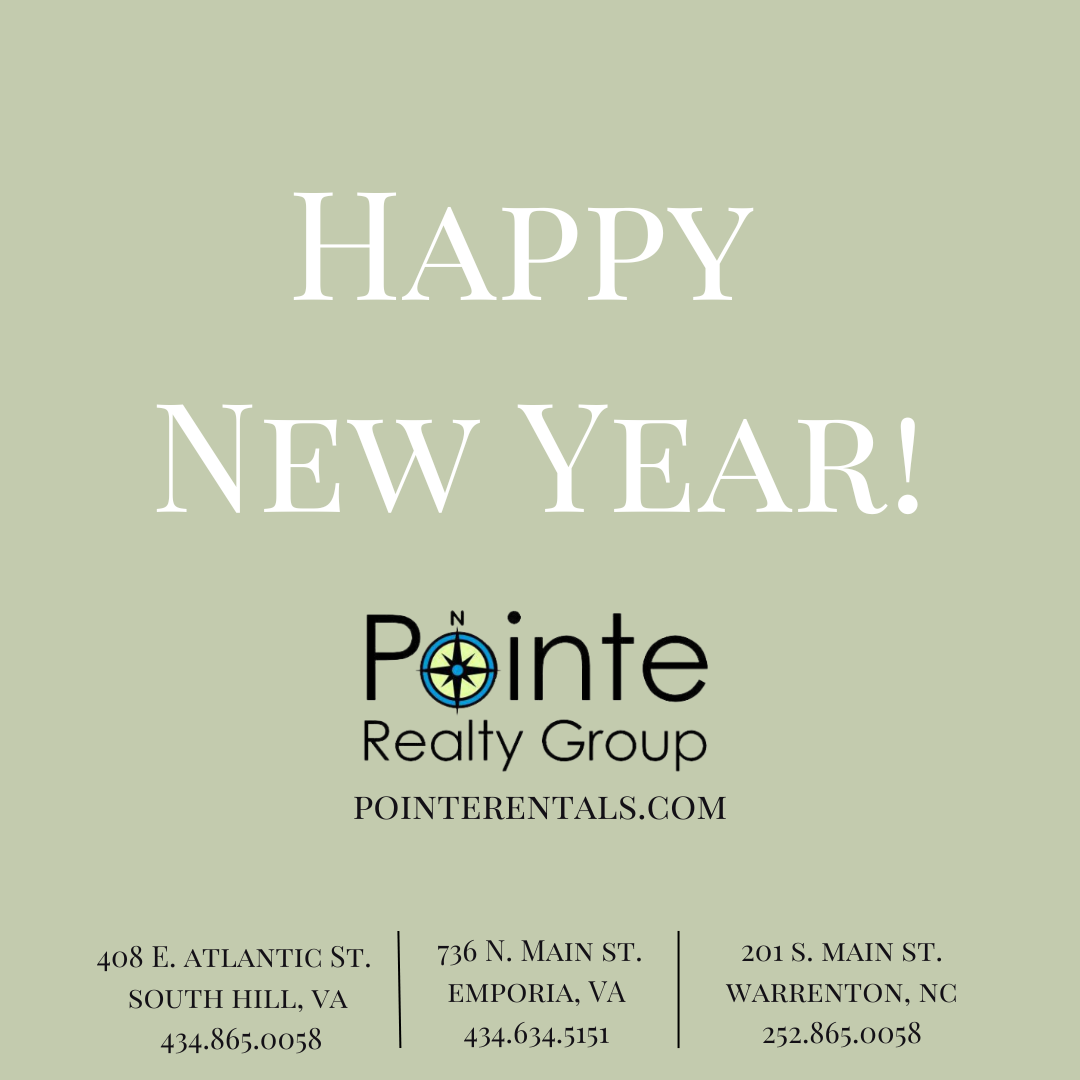 Cheers to 2023!
We hope you and your family are having a great start to the new year! We are looking forward to a new year as we continue to grow our business! We are excited to have grown our property management business to THREE locations in 2022- South Hill, Virginia, Emporia, Virginia, and Warrenton, NC!
Free Rental Analysis.
Did you know? We offer a free rental price analysis on your property! If you've been thinking about renting your residential, multi-family, and/or commercial property, the time is now! Click 'learn more' below to receive your free analysis today & let our highly experienced team manage your rental property. With our team, you will receive a full range of property management services tailored to you as an investor, homeowner, or landlord.
Meet the TEAM.
Meet your South Hill Property Management Team: managing over 500 long term and vacation rentals, we pride ourselves as leaders in the region for property management and real estate! Visit us at our South Hill, VA office located at 408 East Atlantic Street. See available properties below.
Vacation Rentals.
Meet your Vacation Property Manager: Hannah House, vacation property manager is here to make your vacation the most enjoyable possible! Find available vacation rental properties at Lake Gaston, Kerr Lake and surrounding areas. Visit our vacation property manager at our downtown Warrenton, NC office located at 201 South Main Street. See more by clicking below.
2022 Holiday Party.
We had a fabulous time at our 2022 Holiday Party! Thank you to 313 Franklin for hosting us! It was the perfect time to get together with our other Pointe Realty offices and celebrate the holiday season and a great year!
Pictured L to R: Patrick Sasser, Hannah House, Randall Robinson, Evelyn Salazar, Logan Pearce, and Kim Smiley.
Winter Maintenance Tips.
It's that time of year again to make sure you are doing the most to protect your property from the winter weather. In the event that we are faced with extreme cold and winter weather, and tenants put in a maintenance request, we ask that tenants please be patient and trust that we are working diligently to ensure everyone's maintenance request is addressed as quickly as possible. Tenants can help assist with busted pipes and frozen water lines by leaving their faucets dripping, opening cabinet doors to allow heat to get to their pipes, ensuring they keep their heat set at appropriate temperatures, and if they have oil/propane heat always to ensure they have above 30% in the tank. Here's a few tips from Sandra Crowder:

1. Regular refrigerator maintenance involves vacuuming the condenser coils on the back or the bottom to clear out the dust and gunk about twice a year. These coils are critical to pushing heat out, so removing the dust and dirt will allow them to more efficiently keep the inside of the refrigerator cold.
2. Regular HVAC maintenance involves replacing the filter regularly. Dirt and debris in your filter can obstruct air flow, increasing the workload of your system. You can reduce wear and tear on your HVAC system while allowing the free movement of air for improved indoor comfort.
3. Regular HVAC maintenance also involves vacuuming the air registers. Your air registers and vents also become dirty over time. Dust, dirt, pollen, pet fur and dander and other contaminants gradually collect behind the floor and wall registers and within the ducts. Some of the contaminated air flows back into the home, becoming the air your family breathes.
Housekeeping Tips.
Our Executive Property Manager, Patrick Sasser has a few housekeeping tips for our tenants. See below:
1. Please be sure you are changing your HVAC filters AT LEAST once every 3 months.
2. If you are experiencing water drain issues, please attempt using Drano first before submitting work orders. Our maintenance request volume is extremely high and vendor availability is limited.
3. If you have pets, please assure you are cleaning up after your animals and disposing of droppings properly.
4. To submit a maintenance request, please visit our website or click here. Please, do not call our office to submit maintenance request(s).

Submitting a Vacating Request.
Are you preparing to vacate your rental property? Click below to sign in to your tenant portal, click 'contact us' and click 'Request Notice to Vacate'.
The Pointe Application Process.
To our prospective tenants, it is our goal to find you the perfect rental property that checks all the boxes! Once we do that, we can start our Application Process. Click below for complete details of our application process. See below for key elements of our process:
1. Applicants must make at least three times the rent amount.
2. Applicants must have a credit score of 600 or higher.
3. Anyone over the age of 18 that will be living in the rental property, must submit an application as well.
4. Our application process generally takes two business days from the day you provide us a complete application and all required documents.
5. The Application fee is $50.00.
Check Out Our Latest Rental Properties.
Our property management team is ready to help you find your dream rental. For a complete list of our current rental properties, visit
PointeRentals.com
or our
Facebook
for daily updates. When visiting our website, you can search our current availability or enter in your search criteria to find your perfect rental.
Fully Furnished Cottage.
This 1 bedroom, 1 bathroom fully furnished magnificent cottage in Kenbridge, VA is rent ready and within 20 minutes to South Hill or 20 minutes to Blackstone! Click here to see more!
Single Family Home.
This newly built home located in South Hill, VA includes a lovely open-concept living room, spacious back yard, and kitchen including a stainless steel refrigerator, as well as washer & dryer in a separate laundry room. Click here to see more!
Halifax Hotel Apartment.
Located on S King Street and Pittsylvania Avenue in Historic Downtown Halifax, this 1 bedroom, 1 bathroom contemporary apartment is move-in ready. Click here to see more!
Checks All The Boxes.
Located in Dolphin, VA this 3 bedroom, 2 bathroom home includes large bedrooms, hardwood floors, 1 car garage, unfinished basement, living room, family room and an office! Not to mention, lawn maintenance is included. Click here to see more!
Contact Us Today.
Meet Kim Smiley, Vice President of Property Management for Pointe Realty Group South Hill. With over 11 years of experience, Kim's commitment is to provide impeccable customer service, superior quality, and personalized touches to each of her clients' needs while bringing all facets of the business in compliance with the Virginia Landlord Tenant Act. Contact Kim Smiley today for all of your property management needs.

Kim@PointeRealtyGroup.com
Cell: 434.865.0058
Office: 434.447.5600
Facebook
Client Testimonial.
Our Property Management team strives to provide the highest and best customer service for all our clients. We want to make your rental experience enjoyable and easy. The best compliment we can receive is a 5-star review and referrals. Click below to leave your 5-star review!
#RentwithKim #PointeRealtyGroup #PointeRentals #SouthHillRentals#LakeGastonRentals