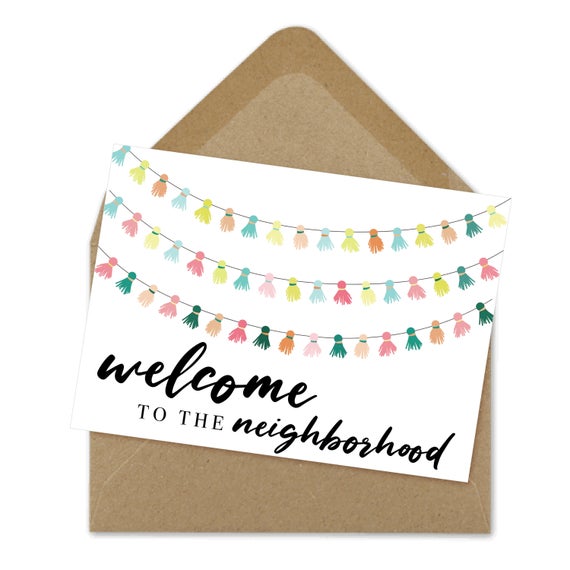 Moving to a new location can be intimidating any circumstance. Existing residents can do a lot to make newcomers feel welcomed into their community. Through the pandemic meetings and community events have taken a back seat but we have found safe ways to make a new neighbor feel welcome!
1. Meet Your Neighbors (At A Distance)
Under normal circumstances you could simply knock on your neighbor's door with a plate of cookies, but these days, knowing how to meet your neighbors can be tricky.
Generally it is acceptable to reach out to your new neighbor within the first week of their arrival. Start with a simple wave or a "hello" from the sidewalk or street. This small gesture can help the new resident feel at ease.
2. Share Relevant Neighborhood Info
One important factor to provide a new neighbor with is community information such as emergency service numbers, a list of local charities and organizations, neighborhood watch programs, etc.
The Town of South Hill website (www.southhillva.org) is a great place to find this information. There you will find Town Council members and Town faculty contact information, Police and Fire contacts, and a complete list of local businesses.
3. Welcome To The Neighborhood Card
Another simple and easy way to make a new neighbor feel welcome is through a greeting card. Keep your message sweet and simple and be sure to let them know which apartment/unit you live in.
Greeting cards can be found at any chain store such as Walmart, CVS, or Dollar General but for an extra special touch, we recommend shopping local. Memory Makers, Lundy Layne, and New 2 You Consignment are great local shops that carry greeting cards.
4. Invite Them To Join Local Groups Online
People new to the area are usually looking for ways to be involved and meet the community through local groups and organizations. While things are beginning to return to normal, online groups are still a great way to start making those community connections.
Provide your new neighbor with a list of online groups that they could possibly connect with. Some great groups on Facebook for community information are the South Hill Community Information Group, the Mecklenburg County Garage Sale, and the South Hill Garage Sale. Information about local organizations can be found on the Town website (www.southhillva.org) or on the Chamber of Commerce website (www.southhillchamber.com)
5. Give Your Top Local Picks In A Welcome Letter
Provide your new neighbor with a list of your top local picks for restaurants, entertainment, and shopping.
Create a welcome letter with your selections and contact information. A complete list of restaurants and events can be found on the South Hill Chamber of Commerce website (www.southhillchamber.com). Don't forget to mention the Sunset Sounds Summer Concert Series in Centennial Park each month, LakeFest, The Hot Time in the Summer Car Show, Spooktoberfest, and Hometown Christmas.
6. Make An Activity Kit For A Family
If your new neighbors have children, then they'll be eternally grateful if you can help keep their kids engaged and occupied while they finish up moving or organizing. (TIP: take note of the children's ages to avoid choking hazards and other safety concerns.)
1.) Create a gift bag of coloring books, paint by numbers, markers, pencils, stickers and crayons.
2.) Create a crafty kit full of blocks, model kits, knitting sets, etc.
3.) Get the whole family in on the fun with a board game or movie.
7. Create A Goodie Bag For Their Pet
Don't forget about the fur babies! Put together a little something for your new neighbors pet/s. Homemade treats and a small toy could go a long way to make someone feel welcome.
8. Deliver Food (Be Aware Of Allergies)
The most common way to welcome a new neighbor is baked goodies but remember to consider common food allergies (like nuts) when making your food choice.
You could also get food delivered to your neighbor's house and have the restaurant add a short welcome note from you. Marino's Pizza, Roma's Italian Restaurant, and Luca's are great local businesses with delivery options.
Some homemade ideas include:
Cookies
Cupcakes or muffins Brownies
Pie Pizza
A casserole Lasagna
Sandwiches and wraps
9. New Neighbor Welcome Box
A gift basket, bag, or box is a great way to welcome a new neighbor. These days people are spending more and more time at home so a basket with a fun activity might be a fun way to go.
There are so many different gift basket themes to choose from. Here are a couple if basket ideas that can be created with local products:
1.) A baking or cooking kit with instructions. (The Makers Market in South Hill has easy make-it-yourself recipes made with local produce.)
2.) A wine and cheese basket with the charcuterie fixings. (Rosemont Winery in Blackridge has won many state awards for their wine selection and 313 Franklin Cocktails and Kitchen has a charcuterie board appetizer)
10. Let Them Get Settled In
Remember that moving is stressful! If your new neighbors seem distant or unreceptive to your welcoming gestures, simply give them space and time to settle in. Show a little compassion and understanding they will greatly appreciate your respect for their privacy!
#RentwithKim #PointeRealtyGroup #PointeRentals #SouthHillRentals#LakeGastonRentals