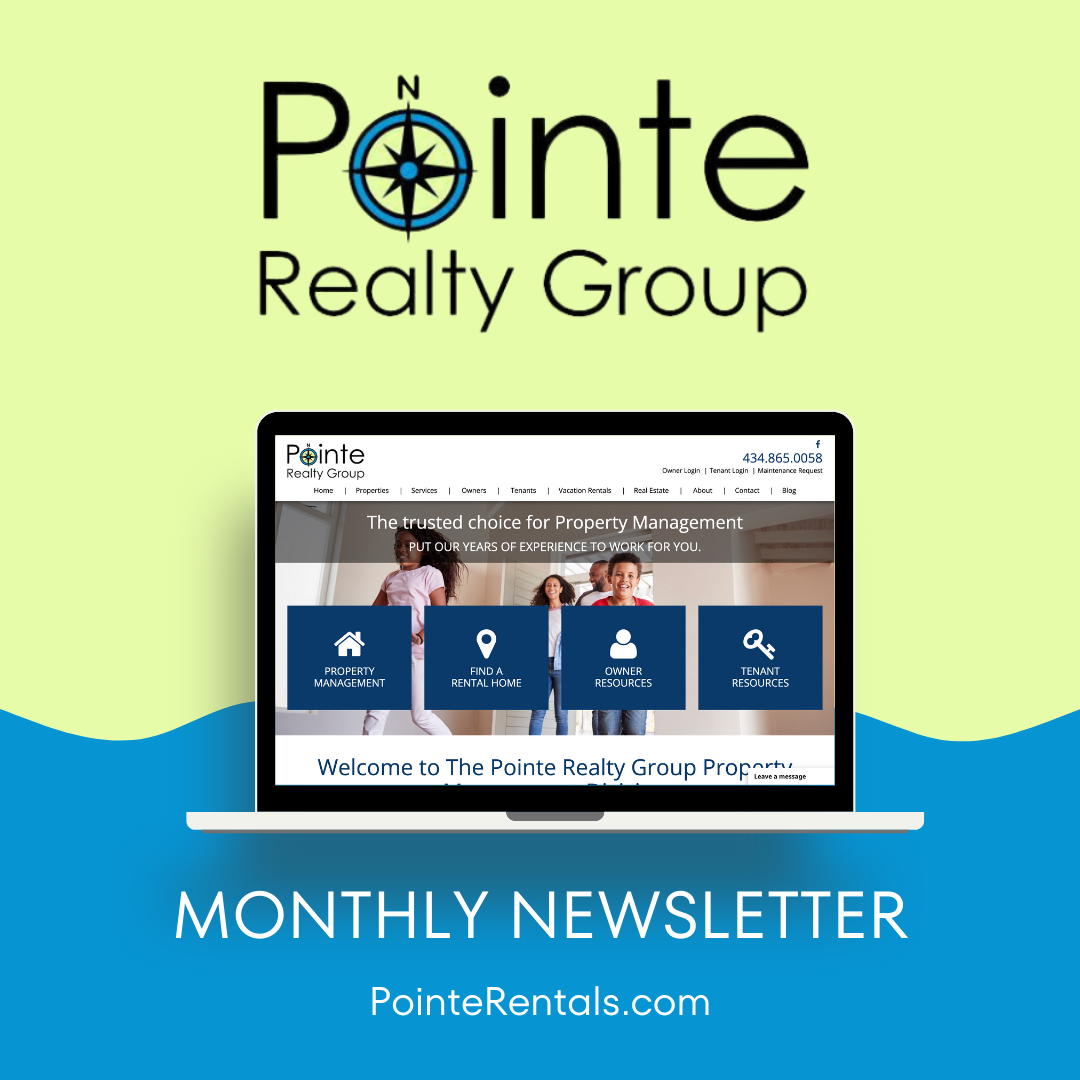 We are so excited to launch our monthly newsletter to keep you informed of the most recent real estate and property management news for Pointe Realty Group South Hill! We are proud to serve our community offering the best customer service for your real estate and property management needs.
Vice President of Property Management.
Meet Kim Smiley. She is the Vice President of Property Management for Pointe Realty Group South Hill. With over 11 years of experience, Kim's commitment is to provide impeccable customer service, superior quality, and personalized touches to each of her client's needs while bringing all facets of the business in compliance with the Virginia Landlord Tenant Act. Contact Kim Smiley today for all of your property management needs.

Kim@PointeRealtyGroup.com
Cell: 434.865.0058
Office: 434.447.5600
Facebook
New To The Team.
In April, we welcomed Patrick Sasser to our Pointe Realty Group Property Management team where he will serve as our Executive Property Manager. Born and raised in South Hill, VA, Patrick attended Virginia Tech where he completed his bachelor's degree in Property Management while minoring in Real Estate. Patrick joins our team with excellent property management experience and we are thrilled to have him serve our team and community. Click below to read more.

Patrick@PointeRealtyGroup.com
Cell: 434.865.4122
Easter Basket Giveaway.
Get ready for Spring by entering to win an amazing Easter Basket filled with some of our favorite items including a coffee mug filled with chocolates, an Easter door hanger, Easter kitchen towels, a spring candle, spring decor + a $50 gift card to 313 Franklin! The giveaway ends Monday, April 18th. Winner will be announced via Facebook on Tuesday, April 19th.
Congratulations To Our Team.
Our property management team acquired 404 rental properties in March. We are excited as we continue to grow in Southside Virginia including South Hill, Boydton, Bracey, LaCrosse, Clarksville, Emporia, Lawrenceville, & beyond! To see a complete list of available properties visit our website below.
March Networking Event.
Our property management team hosted a successful networking event with Walbridge at Locorūm Distillery. We can't thank Walbridge enough for all that they're doing for our community. We also want to extend a special 'thank you' to Locorūm Distillery for having us.
Free Rental Price Analysis.
Did you know? We offer a free rental price analysis on your property! Visit our website to enter your information to receive your free price analysis today. Let our highly experienced team manage your rental property.
Check Out Our Latest Rental Properties.
Our property management team is ready to help you find your dream rental. For a complete list of our current rental properties, visit PointeRentals.com or our Facebook for daily updates. When visiting our website, you can search our current availability or enter in your search criteria to find your perfect rental.
Historic Home in Warrenton, NC.

Just a short walk to restaurants and shopping, this beautiful newly renovated 2 bedroom/2 bathroom historic home is located in Warrenton, NC. This home has original hardwood floors and architectural details, it's age only adds to the appeal. See more here.

Convenience Meets Luxury.

Located in the heart of South Hill, VA near dining, shopping, entertainment and more, this luxury conversion is our model apartment showing the perfect old & new features, as many locals remember it being South Hill Elementary School! Lofts on Franklin include modern amenities, yet the warmth of the original wood flooring & original chalkboards used by all the former teachers. See more here.
New Apartments in South Hill, VA.

BriarCliff Apartments brings a total of 16, 2-bedroom/2-bathroom new homes to South Hill, VA, with close proximity to amazing dining and shopping. Located off Raleigh Avenue with easy access to Interstate 85 and Highway 58. Upgraded vinyl flooring gives you the sleek look throughout with a warm refined grey color palate setting off the modern fixtures and appliances. See more here.

Ranch Style Home.

This adorable ranch-style 3 bedroom, 2 bath home is located in South Hill, VA, minutes from Interstate 85 and Highway 58 and within walking distance to shopping and dining. This home includes a kitchen with open dining area, updated bathrooms, and large bedrooms. Appliances include stove, refrigerator, washer, and dryer. See more here.
Client Testimonial.
Our Property Management team strives to provide the highest and best customer service for all our clients. We want to make your rental experience enjoyable and easy. The best compliment we can receive is a 5-star review and referrals. Leave your review today!
#RentwithKim #PointeRealtyGroup #PointeRentals #SouthHillRentals#LakeGastonRentals