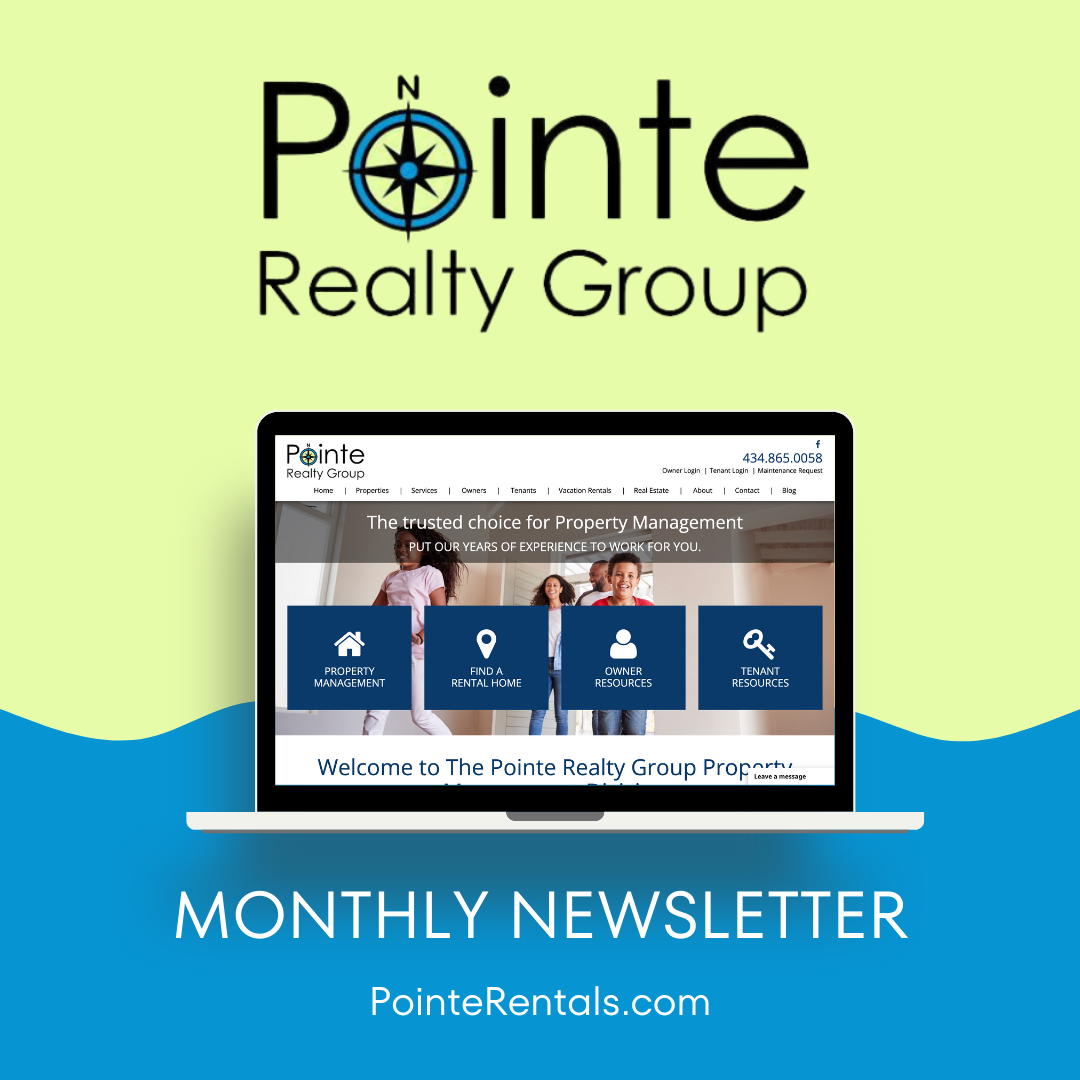 Pointe Realty Group Annual Awards Banquet.
On Wednesday, May 11th, Pointe Realty Group held our Annual Awards Banquet at Hasentree Country Club to honor our 2021 achievements. We are extremely thankful for our hardworking leaders and team along with our wonderful clients for making 2021 so successful. Without our clients, we wouldn't be where we are today. Our South Hill team was honored for the management of 400+ rental properties and presented a standing plaque award in appreciation of our team's dedication, enthusiasm, cooperation and hard work. Kim Smiley, Vice President of Property Management, was recognized for her achievement of Relator of the Year by Readers Choice.
Realtor of the Year.
Congratulations to Vice President of Property Management, Kim Smiley as she was awarded Realtor of the Year by Readers Choice. Kim was recognized at our Annual Awards Banquet for her great achievement. Contact her today for any of your buying, selling or property management needs.

Kim@PointeRealtyGroup.com
Cell: 434.865.0058
Office: 434.447.5600
Facebook
FREE Rental Analysis.
Did you know? We offer a free rental price analysis on your property! If you've been thinking about renting your residential, multi-family, and/or commercial property, the time is now! Click 'learn more' below to receive your free analysis today & let our highly experienced team manage your rental property. With our team, you will receive a full range of property management services tailored to you as an investor, homeowner, or landlord.
May Networking Event.
We're excited to co-host a Family Networking Event for our international teachers and nurses in our community on Wednesday, May 25th 2022, 5:30 pm - 7:30 pm at 313 Franklin. We're lucky to have such amazing teachers and nurses in our area and thankful to have the opportunity to help them get acclimated with our community. To RSVP to this event, contact Kim Smiley at 434.632.4203 or email below.
Administrative Professionals Day.
We recently celebrated Administrative Professionals Day to honor our amazing and hardworking team- Hannah House, April Clary, Pat Sasser and Evelyn Salazar. We credit our success to each of them and thankful for their dedication to our company and clients.
Introducing Pointe Realty Group South Hill Newsletter.
In April, we officially launched our monthly newsletter to keep you informed of the most recent real estate and property management news for Pointe Realty Group South Hill! Stay in the loop with monthly updates & happenings. For daily updates, visit @pointerealtygroupsouthhill.
Check Out Our Latest Rental Properties.
Our property management team is ready to help you find your dream rental. For a complete list of our current rental properties, visit PointeRentals.com or our Facebook for daily updates. When visiting our website, you can search our current availability or enter in your search criteria to find your perfect rental.
Historic Avenue Station Lofts.
Located in the building that was once a fire and police station in Roanoke Rapids, NC this charming 2 bedroom, 1 bathroom upstairs unit in the main building holds some history with items such as original brick walls, jailhouse doors, the firehouse kitchen along with new appliances in the kitchen. See more here.
New Apartments in South Hill, VA.
BriarCliff Apartments brings a total of 16, 2-bedroom/2-bathroom new homes to South Hill, VA, with close proximity to amazing dining and shopping. Located off Raleigh Avenue with easy access to Interstate 85 and Highway 58. Upgraded vinyl flooring gives you the sleek look throughout with a warm refined grey color palate setting off the modern fixtures and appliances. See more here.
Historical Halifax Hotel.
If you're looking for a charming office space in downtown Halifax County, the Halifax Hotel is perfect for you! This historic multi-use commercial space on street level with frontage on South King Street is newly renovated in the heart of Halifax, NC. See more here.
Contact Us Today.
Meet Kim Smiley, Vice President of Property Management for Pointe Realty Group South Hill. With over 11 years of experience, Kim's commitment is to provide impeccable customer service, superior quality, and personalized touches to each of her clients' needs while bringing all facets of the business in compliance with the Virginia Landlord Tenant Act. Contact Kim Smiley today for all of your property management needs.

Kim@PointeRealtyGroup.com
Cell: 434.865.0058
Office: 434.447.5600
Facebook
Client Testimonial.
Our Property Management team strives to provide the highest and best customer service for all our clients. We want to make your rental experience enjoyable and easy. The best compliment we can receive is a 5-star review and referrals. Click here to leave your review!
#RentwithKim #PointeRealtyGroup #PointeRentals #SouthHillRentals#LakeGastonRentals