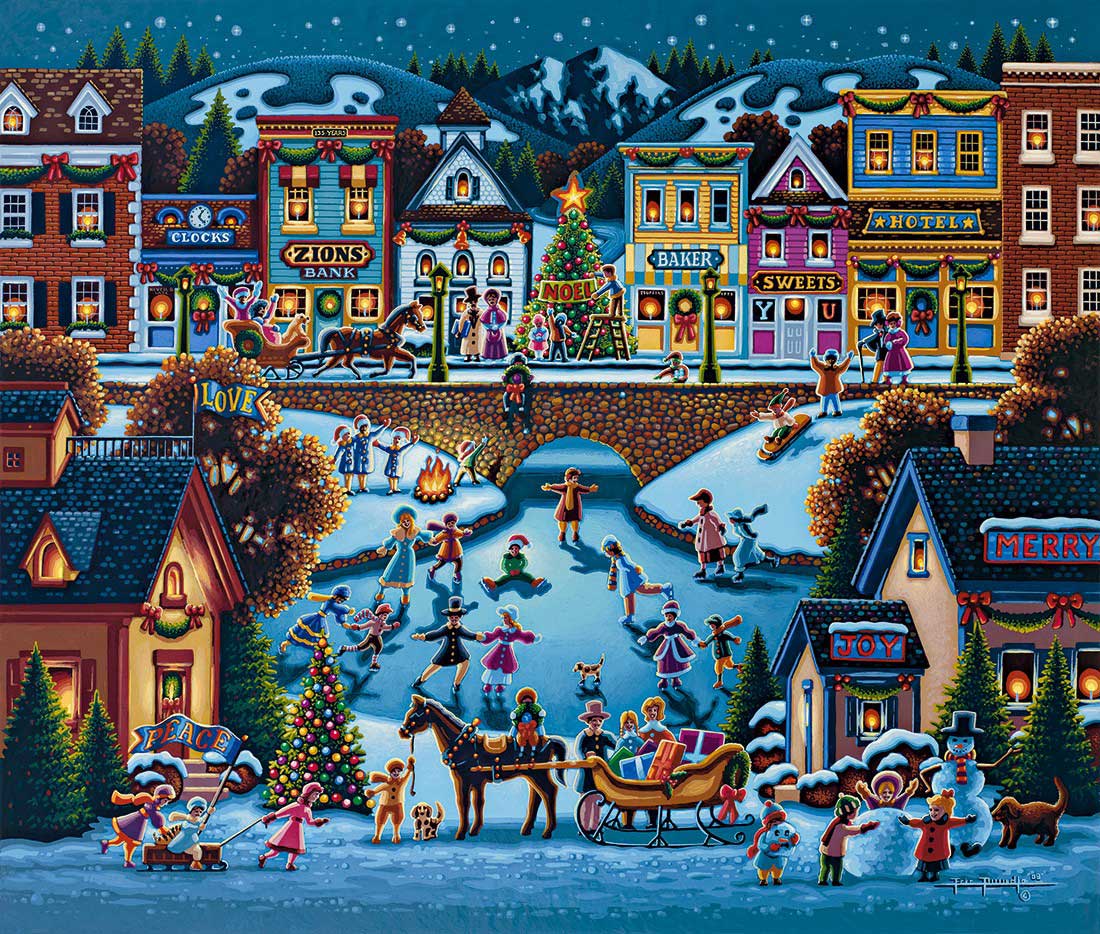 Hometown Christmas in South Hill
Hometown Christmas preparations are underway as crews have started hanging downtown decorations and erecting our Town Christmas tree.
Events will begin on Friday, December 3 with Mayor Dean Marion's Tree Lighting Ceremony at 6 p.m. at the Chamber of Commerce.
Saturday, December 4th will bring Santa's Marketplace to the Chamber from 10 a.m. to 3 p.m. and don't miss your opportunity to "Tell Santa" what you want for Christmas this year at the historical train caboose from 1 p.m. to 3 p.m.
The South Hill Volunteer Fire Department will host a "Cookies for Santa" cookie-decorating workshop from 10 a.m. to 1 p.m. at the firehouse on Brunswick Avenue.
The night will end with the Let Heaven and Nature Sing Community Concert at 5:30 p.m. at the Chamber of Commerce.
Hometown Christmas will close out with the annual Christmas Parade at 2 p.m. on Sunday, December 5. Last year the Chamber worked hard under very unusual circumstances, due to the COVID-19 pandemic, to bring us the reverse/drive thru parade, but this year things are back to normal. The parade will follow its traditional route from Danville Street thru Mecklenburg Avenue.
There are many things to do in between events throughout the weekend on "Christmas Corner" at the Mecklenburg Avenue extension between the library and market square. This year's attractions include: the outdoor skating rink, a Christmas carousel, a wagon trolley ride, and a toboggan tunnel sledding simulator.
"I believe that all of the attractions will be very popular, but I think that children will really enjoy the toboggan tunnel, which is a sledding simulator. However, there will be something for every single person in the community," said Lambert.
Downtown South Hill will be bursting with Christmas spirit as businesses and residents compete in a decorating contest and carolers stroll the streets. Contact the Chamber with any questions about the upcoming Hometown Christmas event.
Christmas Market
The South Hill Farmer's Market will host a special Christmas Market during the Hometown Christmas celebration slated for this weekend.
The event will feature nearly 50 vendors offering self made or produced merchandise, two feature bands, and of course the Christmas Elf.
Local producers will fill Market Square with items like stew, cakes, pies, baked goods, crafts, jams, jellies, wreaths, bows, quilts, woodwork, candles, cups, local produce, dairy products, jewelry, and much more.
Vendors include: Yerby's Honey Farm, IOJ, R & H Crafts, Shaunton the Poet, Lardrun Lane Farm, Art by Karolyn, Art by Micki, Red Oak Stew, VaJano Farm, Birdies Pimento Cheese, Gingham and Pine, Jane Myrick Jane's, Heidi Rose Market, Jolly Canning, Quilted Comfort, Sweet Tooth, Sweet Mamas Kitchen, Peggy's Cakes and Pies, Steve Hinzman Photography, Kneadin It, Design Originals, Bonnie's Baked Goods, Deanna Blackwell, Rebecca Mullins, Sweet Trinkas, J C Farms, Rogue Branch Farm, Lynn Chamberlin Lynn's Homespun gifts, Colleen West, Mind Your Own Beeswax, Sasha's Pop Up Shop, Mary Hatch, Tanya Mason, Hinzman Jams and Jellies, Wreaths and More, S.O.N.G., Alma March, Annette Felder, Yvonne Toone, Fadool's, Madiline's Designs, Crystal Pendergrass, The Old House Primitive, 7 Blessings, and Jodee Haigh.
"It's my one year anniversary being with the market and I have had a blast preparing for this event. We are so excited to be back to our normal routine allowing for more vendors this year and of course our two feature bands," said Farmer's Market Manager Melodie Coleman.
The Christmas Market will begin on Friday, Dec. 3 from 4 p.m. to 8 p.m. and again on Saturday, Dec. 4 from 9 a.m. to 2 p.m. There are still a few slots available for vendors interested in participating. Please call Melodie Coleman at 434-584-9777 for more information.
While you are out and about be sure to head over to the Maker's Market during Hometown Christmas for soups, hot chocolate, fresh cinnamon buns, breads, pies, and more.
Colonial Christmas: A Musical Celebration
The Colonial Center will host a one-night-only community Christmas concert titled "COLONIAL CHRISTMAS – A Musical Celebration" on Saturday, December 11 at 7:00 p.m. Featuring talented local performers and all of your favorite Christmas songs, carols, and hymns, COLONIAL CHRISTMAS will surely put you in the Christmas spirit!
The cast features Tia Bedwell, Michael Carter, Ava Crowder, Jimmie Keith Crowder, Sophie Crowder, Michelle Harris, Patricia Mahaney, Miguel Pacheco, Pepe Pacheco, David Rimon, Desi Rimon, Genevieve Rimon, J.D. Rimon, Brian Siegle, and Bill Wilkerson. There will be singing, dancing, guitars, keyboards, violins and more, bringing you all the sounds and sights of the season.
Seating is general admission; tickets are $10 each. (Convenience fees apply to all credit card orders.) Please call (434) 262-4170, visit www.colonialcenterva.org, or stop by the Box Office at 220 S. Mecklenburg Ave. in South Hill for more information or to purchase tickets. The Box Office is open from 8:30 a.m. until 4:30 p.m. Monday through Friday.
Please note: all audience members are asked to please wear an appropriate face mask which covers their nose and mouth while attending events at the Colonial Center. Masks are highly recommended for all, regardless of vaccination status. Single-use masks are available, free of charge, at the Will Call desk during events.
Celebrate the holidays in Clarksville
It's finally that wonderful time of the year where Mecklenburg County begins its celebration of the winter holidays! Make sure to celebrate the season by watching all of the Christmas parades you can.
Clarksville's Grand Illumination will be the first event of the holiday season, set for Wednesday, December 1 at 6p.m. There will be Christmas music, free refreshments, and Santa will be in attendance!
Clarksville will also host the first parade of the holiday season. Their Christmas Parade is on Friday, December 3 at 6:30p.m. This year's Grand Marshalls are the Lady Barons Volleyball Team!
Christmas in Chase City
Chase City will both have parades on Sunday, December 5.
South Hill's Christmas Parade will begin at 2p.m. in Downtown. For more information on South Hill's Christmas events, go to the Hometown Christmas article on page 7.
Chase City's Christmas Parade is scheduled for Sunday, December 5 at 6p.m. This year's Grand Marshall is local stew master Scott Wynn! The Chamber announced in a livestream on Facebook Monday that Scott has been selected for his service to the community through numerous fundraisers and delicious stews.
Come out Sunday night to enjoy the Christmas community spirit! The parade route will begin at the intersection of 5th Street and Main Street and will conclude at Colgate Square on Sycamore Street. For information or entry, please call (434) 372-0379 or send an email to chasecityva@verizon.net.
#RentwithKim #PointeRealtyGroup #PointeRentals #SouthHillRentals#LakeGastonRentals